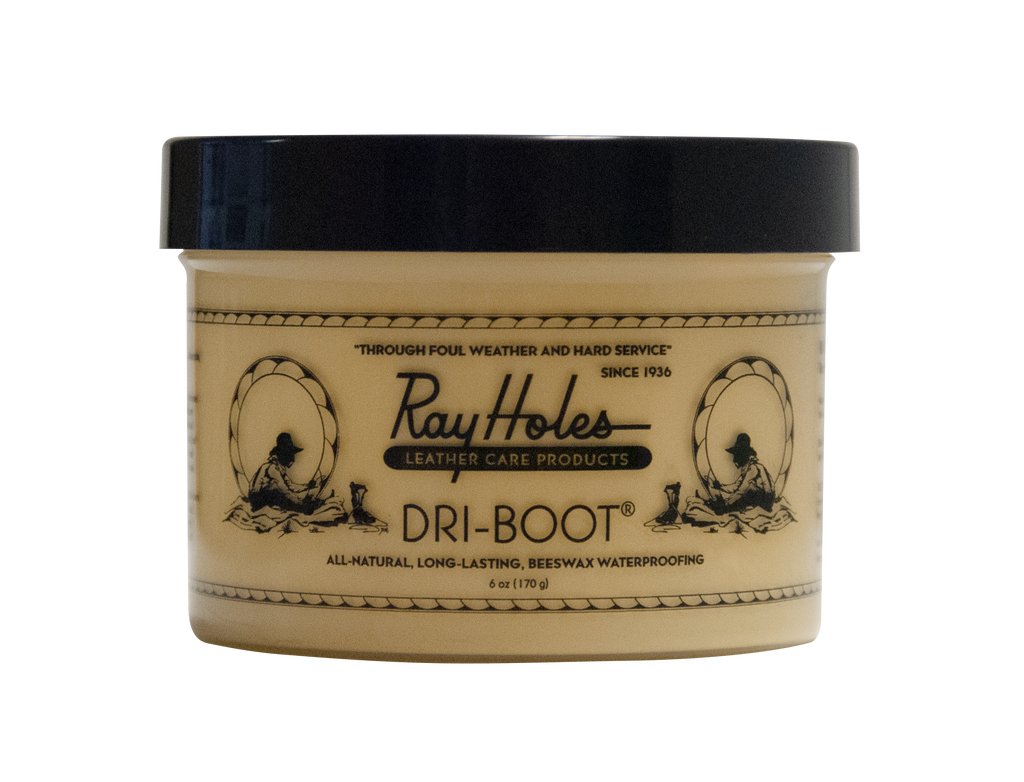 Ray Holes Leather Care Products
Dri-Boot® 6 oz.
6 oz. jars.    170 grams         ($2.50/oz)


 Dri-Boot® is an all-natural wax waterproofing for leather, using only the finest ingredient it is the ultimate solution for those looking for waterproofing that will care for top-grained leather products.
Whether about the yard or out in the field, Dri-Boot® provides that extra protection needed from rain, snow, mud, and anything else nature might through at you. Use on 'leaky' chaps, quilted saddle seats, boots, shoes, gun cases, briefcases, binocular cases or any other leather item needing protection and added life from the elements. Dri-Boot® provides a moisture shield and does not soften leather making it ideal for use where you need to maintain the shape of preformed leather items.
Dri-Boot® can also be applied over Saddle Butter® for added protection or as a quick fix on that leaky old oilskin jacket.
Remember less is more, a little Dri-Boot® goes a long way!
Dri-Boot® and Chap Wax® are the same product.
Available in 6 oz. jars.
Reviews
Excellent products. Fast service - Judy

---
Share this Product
---
More from this collection
My favorite leathercare product
Chap wax has never let me down. Great product.
Awesome Product but puzzled! (Amarillo, TX)
While I love the product. I have my curiosities and questions. I am still on my original 6 oz jar, just ran out, that I bought in 2003, at King Saddlery in Sheridan, WY. Now although extremely pleased with the product, my curiosity stems from the actual origin date of the formula. My jar say 1938, the jar on here says 1936, but description on here says 1942? So what is it, '36, '38 or '42. I didn't actually purchase it because of when it was developed, but does anyone actually know when Ray Hole developed it? Now back when I bought this I put a lot of stock in the idea if westerners had been using this that far back it worked. Thus it had survived so long in a market filled with so many options. Some newer in origin, some older but either way for a product made in a small Idaho town of Grangeville it had stood the test of time. Even apparently weathering the test of the Great Depression. But now I am left to ponder 1936, 1938, or 1942 please advise.
HI Timothy,
Thank you for the inquiry.
Sorry for the confusion. Chap Wax was created by Ray Holes for shop use at Ray Holes Saddle Co.
Dates:
1932 Ray Holes Saddle Co. opens shop in Cottonwood, ID.
1936 Ray Holes Saddle Co. opens in Grangeville, ID.
Chap Wax was developed for shop use during these times.
It is also my understanding both Chap Wax and Ray Holes Saddle Co. weathered the Great Depression. My great grandmother Lillian Holes, operated a Western Union service from the Saddle Shop. It is my understanding that the news was hard news and the service helped my family make it through those times. It is also my understanding the Ag-based clientele were strong people and also helped my family. The leather gear built by my great-grandfather also helped us weather the storm.
It is stories like these that inform our slogan 'Through Foul Weather and Hard Service.'
Hope this helps.
Happy Monday
Gen 4
simply the best products on the market hands down. saddle butter has revived an original set of saddlebags from a 1958 Harley and dri-boot has kept them protected.great on boots,leathers,chaps,saddles.a little goes a long way.
thanks