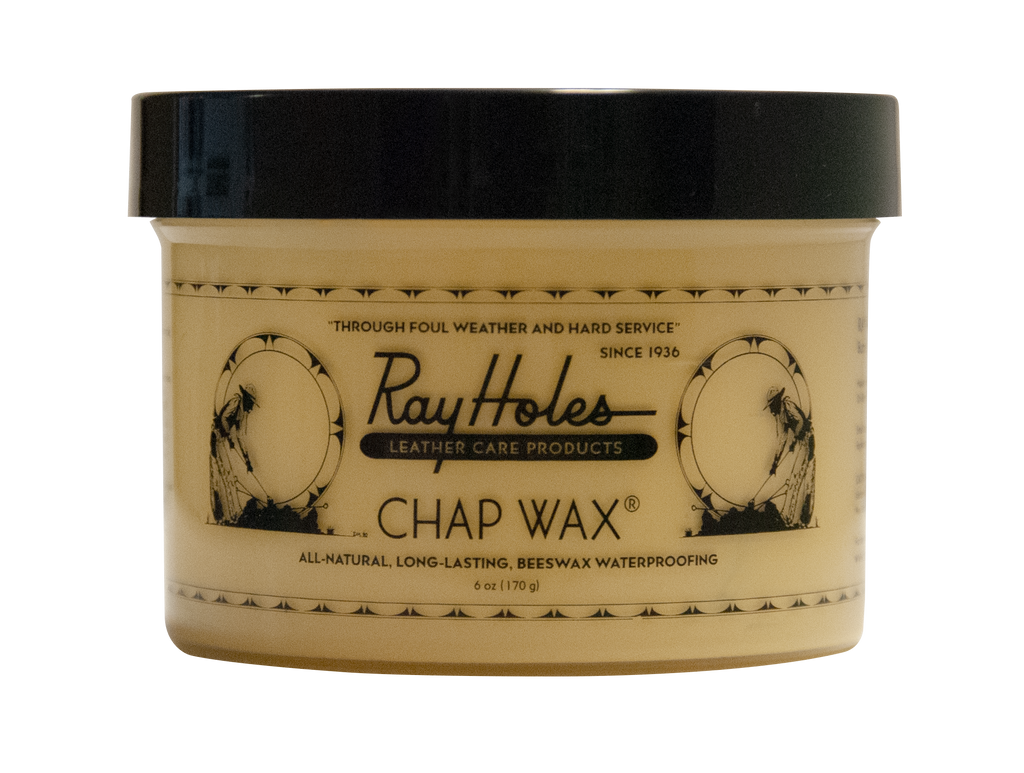 Ray Holes Leather Care Products
Chap Wax® 6 oz.
Chap Wax®
6 oz. jars.    170 grams         ($2.50/oz)
Developed back in 1942, Chap Wax® is an all-natural wax waterproofing for leather, using only the finest ingredient it is the ultimate solution for those looking for a waterproofing that will care for top-grained leather products.
Whether about the yard or out in the field Chap Wax® provides that extra protection needed from rain, snow, mud and anything else nature might through at you. Use on 'leaky' chaps, quilted saddle seats, boots, shoes, gun cases, briefcases, binocular cases or any other leather item needing protection and added life from the elements. Chap Wax® provides a moisture shield and does not soften leathers making it ideal for use where you need to maintain the shape of preformed leather items.
Chap Wax® can also be applied over Saddle Butter® for added protection or as a quick fix on that leaky old oilskin jacket.
Remember less is more, a little Chap Wax® goes a long way!
Dri-Boot® and Chap Wax® are the same product.
Available in 6 oz. jars. 
I love the confidence knowing that my new leather riding (motorcycle) is weatherproof, now and my vintage Frye boots are conditioned. Thank you! - Sara 
---
Share this Product
---
More from this collection
It works
I bought this to put on a pair of custom built chinks the thing that amazes me is how much better it works than the stuff I have been using for years and thought was doing a good job . Used this on my Favorite moccasins and it's the only thing I have ever found that would make them waterproof. Needless to say I'm not going to by the other lp ever again
Ray Hole's Chap Wax and Saddle Butter
Ray Hole's Chaps Wax works! It does and will help protect the leather pores from dirt and water intruding in. With my leather tack I like to use Ray Hole's Saddle Butter first to feed the leather the nourishment it needs to keep it soft and pliable. I let the leather sit for two days and then follow it up with the Chaps Wax. Ray Hole's Leather products work, you won't be disappointed.
Great Product
This stuff is awesome. I use it to weatherproof the footballs at our high school. I think it probably triples the life of a football. I apply it every 1-2 weeks depending on the weather.