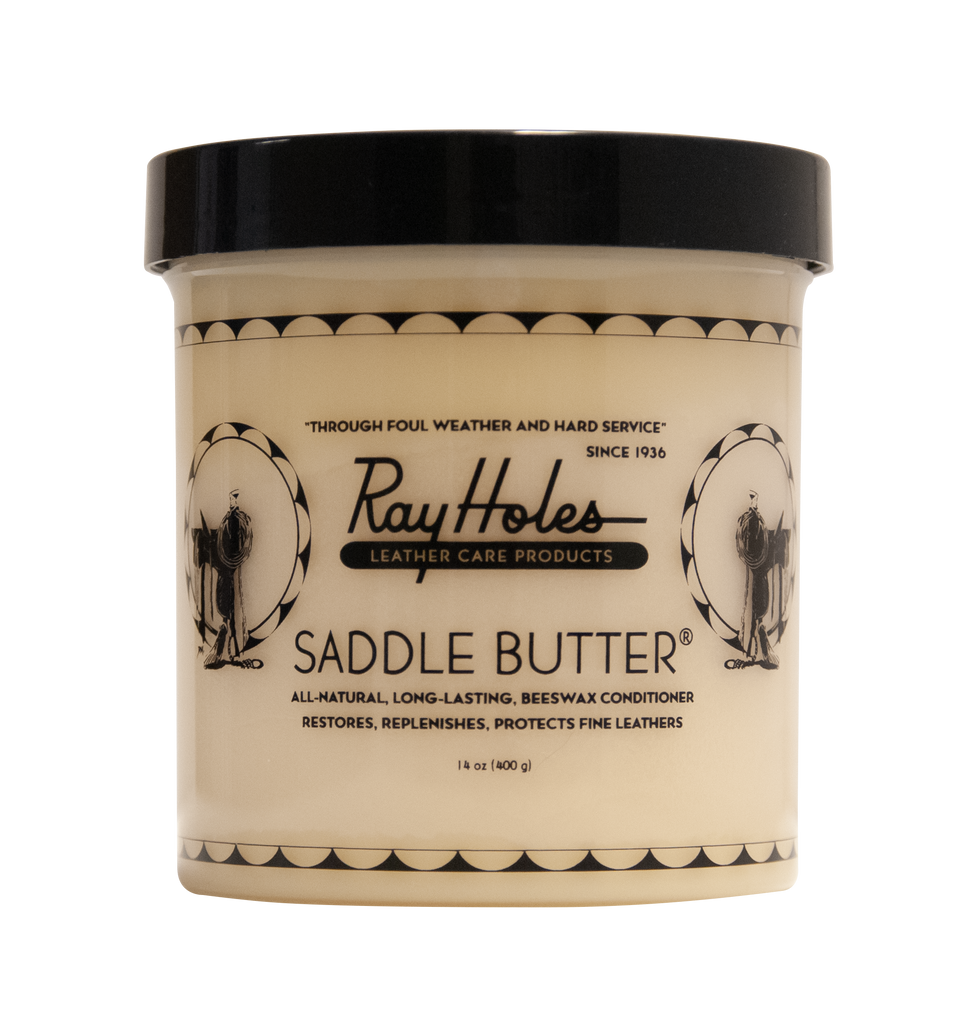 Ray Holes Leather Care Products
14 oz. Saddle Butter®
Made especially for leathers exposed to foul weather and hard service.  Use on Saddles, Boots, Chaps, Gun Scabbards, Luggage, Holsters, Bridles, and any leather parts for your horse and outdoor gear.
14 oz jars.  400 grams  ($1.43/ounce)
Instructions: Remove all sweat, gummed oil and dirt from the leather by washing with warm water and glycerine saddle soap. Have leather warm when applying. When leather is nearly dry, apply SADDLE BUTTER® and rub it in well with your hands. The warmth of your hands will help the tallow and waxes penetrate the pores of the leather. If preferred, warm SADDLE BUTTER® – with lid removed – in a pan of boiling water until soft, or microwave for 30 seconds.
Apply with woolskin, cloth, soft brush or hands. Apply several coats to all leather which comes into contact with horse to give extra protection from the salt and moisture of perspiration. On flower-stamped leathers, apply light coats and wipe off surplus with a clean cloth. Any accumulation in depressions of stamping should be removed at once with a dry soft brush.
Carnauba wax can leave a white residue if applied too thick or too cool. Remove excess with a soft brush and buff the carnauba wax into leather with a cloth or woolskin.
For over 80 years SADDLE BUTTER® has been unexcelled in protecting saddles and gear from leather's three worst enemies: sun, wet weather and sweat. SADDLE BUTTER® contains a combination of ingredients including beeswax and Brazilian carnauba wax, tallow and PURE® neatsfoot oil. Each ingredient is a pure animal or plant product. Absolutely NO modern synthetics, mineral oils, or commonly-used leather-treating chemicals — which break down and slowly rot the natural fibers of fine leather goods— are used in the SADDLE BUTTER® dressing.
Reviews
Three treatment to a pair of reins given to me by an old friend- they are now soft and perfect. - Susan

Good stuff - Wayne

---
Share this Product
---
More from this collection
The best!
I restore vintage saddles..Recently i was honored to clean and condition a leather military jacket.. took some work but came out wonderful.. also great on motorcycle gear..
It works great. Makes the leather so nice.
Killer product. I threw away my bick 4 lol
Love it. The best I've ever used. Excellent on hoween cordavan leather
Great top coat for leather vests
I've been using Ray Holes saddle butter since my brother brought it to Michigan and gave it as a gift many moons ago. I paint logos and such on leather vests for clients and use Ray Holes Saddle butter afterward to make them look new. It truly gives old leather new life!
THE BEST!
This is by far the greatest leather product I have ever used. I restore old equestrian items. Some that I thought were hopelessly dried and cracked look stunning and feel fantastic after using the butter. My leather thanks you!🙂